Radiant Winter Pick-Me-Ups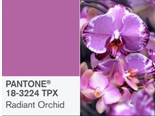 What's in a number? Plenty if it's number 18-3224 – otherwise known as Pantone's 2014 Color of The Year, Radiant Orchid. You may wonder, what's is the big deal? It's a fair question but I assure you, making this selection is no easy undertaking.  Pantone combs the world looking at every conceivable color influence. Everything from the entertainment industry to art to technology and socio-economic conditions is carefully considered so that the 'chosen one' reflects the world we are living in. What's more, its selection influences countless industries such as art, accessories, apparel, beauty, interiors, paint, home goods, lighting and so much more.
Building on the messages of Emerald Green (a.k.a the 2013 Color of the Year) which symbolized harmony, renewal and prosperity, this year's selection has been dubbed by Pantone's executive director Leatrice Eiseman as, "an invitation to innovation encouraging enhanced creativity and originality." I very much like the sound of this, especially at the start of a new year. But while Radiant Orchid has already been seen all over the runway for the spring 2014 shows, I'd rather not wait to enjoy this hot hue. So with that said, here are some of my favorite Radiant Orchid picks to perk up your wardrobe right now.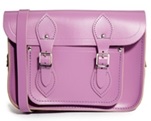 Carry on. The easiest way to add some Radiant Orchid into your otherwise neutral closet is by way of an accessory. This one, by Cambridge Satchel Company, offers exceptional craftsmanship in a bag that marries fashion and function. The front pouch pocket offers a great way to stay organized, while the design echoes school girl chic. What's more, the design can take you from work week to weekend in a wink. ($149 at asos.com)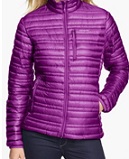 Get down with it. Admittedly, I'm not a fan of the cold weather. But I'd be lying if I said I didn't enjoy a wardrobe of coats and jackets – especially those of the brightly colored variety. This one is fully padded with 800-fillgoose down for warmth, yet it's fitted to the body so it keeps you protected without looking bulky. It boasts double water-repllent properties which means snow flakes slide right off. Plus you can count on the color to lift your spirits as the temperatures plummets. Wear this winter must-have in the city or après-ski for a chic, yet sporty look. ($299 at Nordstrom.com)
Pucker Up.  This one-stick wonder offers rich, matte color in a dazzling Radiant Orchid hue that's flattering on a variety of skin tones. Infused with orchid essence for nourishment and collagen for a subtle plumping effect, the creamy formula glides on and provides all-day wear that rivals the staying power of your favorite lip stain. Since this hot hue it's a limited edition, you will want to stock up. Note: to prolong the life of extra tubes, store them in your refrigerator. ($18 at Sephora.com)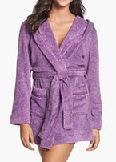 Purple and plush.  I'm not sure why, but many people are willing to make a concerted effort on their work and social attire, yet ignore their loungewear. That's one approach, but I believe you have the right to look (and feel) great no matter what you're doing – even if it's just cozying up at home. Let 2014 be the year that you make this part of your wardrobe a priority, even if you're the only one that sees it. Why not start with this yummy robe? The heathered hue and cropped cut make this hooded, plush robe an easy addition to any at-home wardrobe. ($49 at Nordstrom .com)

Ear candy.  The holidays may be over, but who says you can't still enjoy a bit of bling – especially when it frames the face?! These earrings are demure enough to be worn for day, yet have enough movement and visual interest for a night on the town. Hand-painted lucite details the radiate at the center, while Swarovski crystals create a shimmering outline. They have an art deco vibe that gives them an almost "collectible" look and feel. ($98 at Shopbop.com)
So while this winter you may be tempted to reach for the dark neutrals in your closet or accessory drawer, why not invigorate your wardrobe with a few well-chosen pieces in this gorgeous hue?