Rev Up Your Wardrobe with Red
If ever there was a month to wear red, February is it. Not only is it the color we associate with love and Valentine's Day, it's also the official color of the Go Red for Women® campaign.  While red is often perceived as exciting, assertive, stimulating, dramatic and passionate, it is also a power color that encourages action and confidence.  So if you or your clients are looking to add some excitement to your wardrobe or simply looking for a few, fun ways to embrace this month's favorite hue, read on for some of my favorite picks.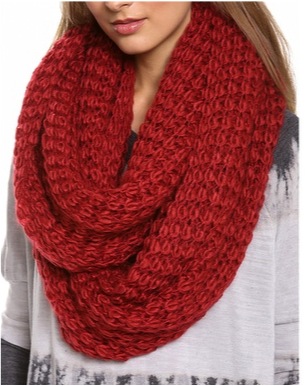 It's a wrap.  Baby it's cold outside…and there are no signs of it warming up anytime soon. What's a girl to do?  Bundle up in style, of course.  The infinity style makes this scarf easy to wrap around your neck, while the chunky knit keeps you cozy and warm. In addition to adoring the scarf itself, I'm smitten by the company – Paula Bianco.  The company helps give young designers a voice by hiring up-and-comers from a fashion school to design products that are in keeping with their aesthetic.  (A win-win for all!)  No wonder they are a favorite amongst chic shoppers and celebs alike.  ($59.50 at shopbop.com)

Stay a step ahead. It's hard to believe we will ever be out of snow boots, but I know that day is coming.  And when it does, you'll want to be ready with footwear that easily bridges the seasonal transition.  Cue this wonderful bootie.  A bit retro in feeling, yet definitely of-the-moment, this peep-toe bootie can easily be worn with textured tights now and sans hosiery come spring.  The bootie beautifully pairs with everything from a slim ankle pant to a full, midi skirt or sheath dress.  What's more the suede and tortoise-toned-heel give it a luxe look and feel. ($149.95 at nordstrom.com)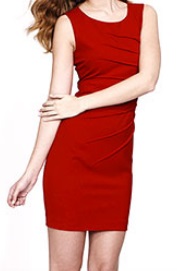 Say 'yes' to the dress. Chances are you already have (at least) one LBD.  And while it's always right, sometimes you want to move beyond the tried and true.  Enter the LRD. Curved seam detailing gives a fluid, feminine effect to this vibrant sheath dress, plus the little bit of stretch makes this beauty every bit as comfortable as it is flattering.  If that weren't enough, is that this is a dress that gives back. Until February 28th Macy's will donate 10% of each sale to the American Heart Association's Go Red for Women® movement. Think about it this way…why just look fab when you can also feel fab about doing something good for others? ($89.98 at Macy's)

It's time for cuff love. The cuff bracelet trend began a few seasons ago and continues to be an important accessory going forward.  This one, with its bold red color and tough girl embellishment, adds a bit of edge to any outfit.  (And Is it just me, or does everyone think that the signature Valentine "pyramids" are really cool?) What's more the leather band not gives the bracelet a sumptuous look, but it also offers a great way to participate in the leather trend without having to go all-out. ($345 at Neiman Marcus)

Pucker up.  There is, quite possibly, nothing more sexy than a red lipstick…unless it's one that has a patented blend of conditioners and antioxidants to hydrate, nourish and protect lips.  Nars lipsticks are enriched with vitamin E to increase wearability and keep the "true color" intact. While their rich, vivid shades range from neutrals to high-fashion hues, this month I'm all about "Red Lizard" (though there are other fabulous reds to choose from).  Trust me, it was no accident they were voted Best Overall Lipstick by InStyle (2011). ($26 at www.narscosmetics.com)
Whether you embrace red in a big or small way – with one of these products or with something you already own – please don't forget to wear red on February 7th to Celebrate National Wear Red Day®.  To learn more about the movement or to get involved at any time, check out www.goredforwomen.org.