&nbsp

Behind Closed Doors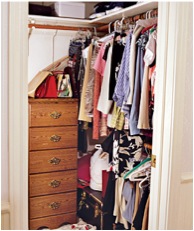 It's during the winter months that people usually feel more ambivalent about their wardrobes and less inspired to dress. If you are in fact feeling this way, here's a thought for your consideration: Maybe it's not your clothes…maybe it's your closet? Is it disorganized, cluttered, messy, or dark?
Just like people, sometimes a closet needs a makeover! Wouldn't you love to love your closet? After all, it is the place we look every morning for inspiration to get dressed. With a few sprucing up tips, you can create a sanctuary that represents your style, personality, and best self. Just remember the 5 R's: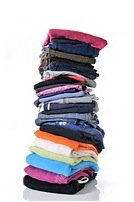 Remove. First get rid of any clothes that are outdated, loved-to-death, don't' fit, or aren't 'you.' Next remove plastic dry cleaning bags, unsightly mismatched hangers, and anything that is not wardrobe-related. This is no place for skis, extra paper goods, or other peoples' stuff. Remember, your closet is precious real estate!
Redecorate. White is always right, but why not paint the interior of your closet a color you really love? You can still keep it light and bright with color options like pale violet, peach, or yellow. Also consider the lighting and add the proper fixtures, if need be. You will be better equipped to make your morning selections when you can actually see what it is you have.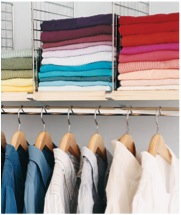 Reorganize. Walking into your closet should be like walking into a boutique where you want to buy everything! All items need to be easily accessible and on display as much as possible. Sweaters, jeans, t-shirts can be folded on open shelves, alongside your favorite handbags. Shop for a jewelry stand or add hooks to the wall to hold necklaces. Invest in scarf and belt hangers that help you keep both tidy and top of mind. Put your shoes in clear, covered shoes boxes. (I love to put a picture of the shoe in front for easy identification.) When you walk into your closet and see all the possibilities, you'll feel like a kid in a candy store!
Redefine. If you have some room, adorn the walls with things that inspire you. Small frames can be filled with inspirational quotes or fashion looks you'd love to emulate. Alternatively, use a washable pen on a full length mirror to write a goal for the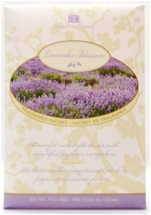 day; something you're thankful for; or simply a reminder to wear or add a particular clothing item. Make it personal and inspiring!
Refresh. Are you ready for one last step? A lovely way to enjoy the space you get dressed in is to add a wonderful scent that you enjoy. Lavender satchels make for a fresh smelling closet and drawers. Cedar blocks are also pleasant and keep those pesky moths away. Pick a scent you love to complete your closet makeover!