&nbsp

Holiday Dressing – What to Wear?
At this time of year, a little planning goes a long way, especially when it comes to your festive attire.  As the holiday invites roll in, you may be wondering what it is you are going to wear to all of these celebratory occasions.  Deep breathe!  It's possible you already have just what you need to put your holiday look together, sitting right there in your closet.  Or maybe you will just need to shop for one or two 'sizzle' pieces?
What are some wonderful additions to the "LBD", dark wash jeans, black blazer, or silk blouse/simple pencil skirt that you probably already own?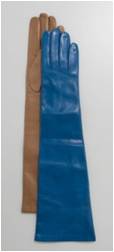 Gloves:   Many of us forget about this fabulous winter accessory that can marry fashion and function.  Have fun and try on different colors, prints and lengths.  Long leather or satin gloves that reach the elbow can add a bit of style and sophistication to sleeveless attire.  Wear a pair in a deep-jeweled tone like garnet, sapphire or emerald to add a pop of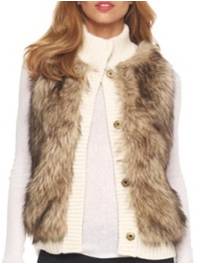 color to a simple black dress.  If you don't care for long gloves, go with a shorter pair with embellishment.
Fur (faux or real): Even if you didn't buy any fur pieces this fall season, this classic may be in the back of your closet.  No time like the present to pull it out!  Fur shrugs, capes, vests, even fur collars are festive, fun, and functional and perfect over any of your party attire.   You will also want to check out the sale rack, as your favorite piece just might have just been reduced.
Sequins or paillettes: Get ready to shine!  A sequined dress in black, gold, or silver makes for the perfect outfit this holiday season.  Too much of a good thing?  Opt for a sequined tank or jacket you can pair with practically anything – from your favorite dark wash denim to a go-to-work pencil skirt or simple trouser.  For just a bit of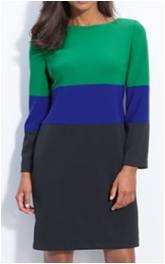 sparkle, add a narrow sequined belt or clutch.  Remember, the more sequins you have, the less jewelry you need.
Color blocking:  Color blocking has officially made the transition from summer to fall, with the mix of richer hues and neutrals.  While last season's bright-on-bright color blocking may have been too much for some of us, this season's toned down version is much more wearable.  We love the blocks of color that feature different mixing and matching of neutrals, such as classic black and white or camel, navy and white – so sophisticated and chic!  Don't be fooled, however. Bright colors are not out of the picture.  Mixing brights with neutrals is another color trend for the season.
Red: If you have your favorite shade of red living somewhere in your closet, this is the perfect time to bring it out.  Scarlet red, rust red, plum red, any shade of red can be the base of a great festive outfit.  If you feel red is a bit too much for you, opt for red nail color or a red lipstick instead. (Be sure to wear a nude lip liner to avoid any bleeding of color into fine lines around the mouth.)
Chandelier Earrings:  This earring style brings shine and movement where you want it the most – at your face!  Your chandelier earrings can have mixed metals, tiers of gemstones, and be of varied lengths.  Pair them with an animal skin, patent, or jeweled encrusted clutch and off you go!