&nbsp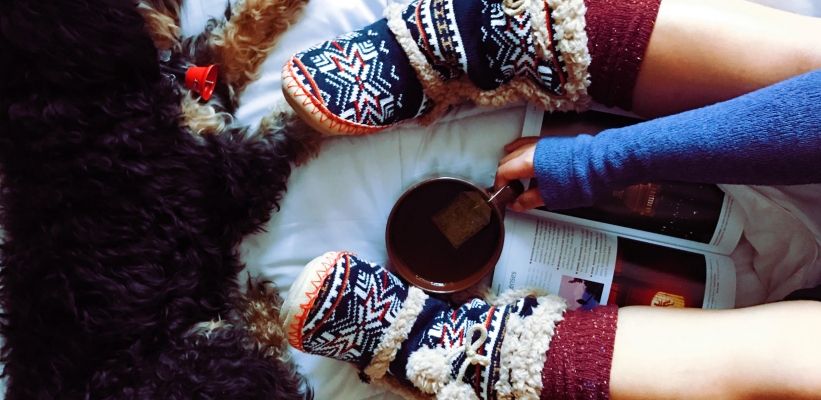 How to Up the Cozy Factor
For all intents and purposes, the hustle and bustle of the holidays is over.  Gifts have been wrapped and given.  Family and friends have come together and precious memories have been made.  Many of us now have a few days off and the opportunity to slow down, stay in and delight in creature comforts. Chances are, it's been a while so it begs the question…How do you create an environment where your surroundings sooth you? Read on for some ways to curl up (literally and figuratively) in cozy.
Spot On:  Indulging in a lazy afternoon starts with finding the perfect spot.  Whether it be your bed, couch or chair, find the most comfortable nook. Make it special by adding ambiance to the area. Whether it be the fragrance of fresh flowers or the waft of a winter candle, scents can add so much to a home.  Tidy up the area so there is a feeling of serenity and order, rather than clutter. But don't forget to place a photo or knickknack nearby that brings back happy memories of a special time, place or person.
Warming Trend:  The cold weather calls for us the bundle up and stay warm, inside and out!  Whether it be a yummy, cashmere sweater or a fuzzy, fleece blanket (or both) find a soft layer that speaks to you.  Don't forget delicious-feeling socks to keep your tootsies nice and toasty. Sip on your favorite cold weather beverage all day long to keep up the cozy factor. Hot apple cider, cocoa, tea and coffee are all perfect winter beverage fixes that are sure to make your snuggle days sweet.
Feel-Good Media:  Finding the perfect movie can be hard but honing in on the genre and vibe of the movie is a good place to start. To feed that warm and cozy feeling, opt for a winter or holiday classic or a movie that promotes a bit of nostalgia. Alternatively you might prefer to get lost in a book or indulge in some magazines. If music speaks to you, perhaps you might select some relaxing jazz or instrumental tunes to create a peaceful and soothing environment. Just make sure what you are watching, reading or listening to will inspire a sense of warmth and happiness.
Soul Food:  A day of soothing wouldn't be complete without comfort food. Since we have not yet watched the ball drop, why not take these last few days to indulge a little before any New Year's resolutions start. Think of a food that is warm and savory, like a stew or chili, which is perfect for a delightful day indoors. A slow cooker or crock pot is perfect for occasions like this…You can (lovingly) throw everything in one pot and let it slow cook all day, while you relax. If however, cooking is a hobby, take the time to fully enjoy it with a recipe that allows you to nourish your soul, as well as your body. Give yourself permission to leisurely peruse the market and handpick your foods for your feast.  Don't forget to set a beautiful table to enhance the experience.
Meaningful Connections:  As you luxuriate in a leisure day, you may also want to take the time to reconnect with someone who is important to you. Set social media and email aside and opt for a more personal phone call. Or, if you are willing and able, invite this special person to come over and enjoy the day with you. If the person is far away, consider writing them a handwritten and heartfelt note. Take the time to choose your words carefully, as this will make it a more meaningful correspondence for both you and the recipient.  After all…relationships are truly the most precious part of life and there's nothing cozier than connecting with those that matter most.
However you decide to get cozy, remember to slow down and enjoy your environment. I'm off to do just that…with my favorite blankie in hand!  I feel a much needed catnap coming on. (Smile…)