&nbsp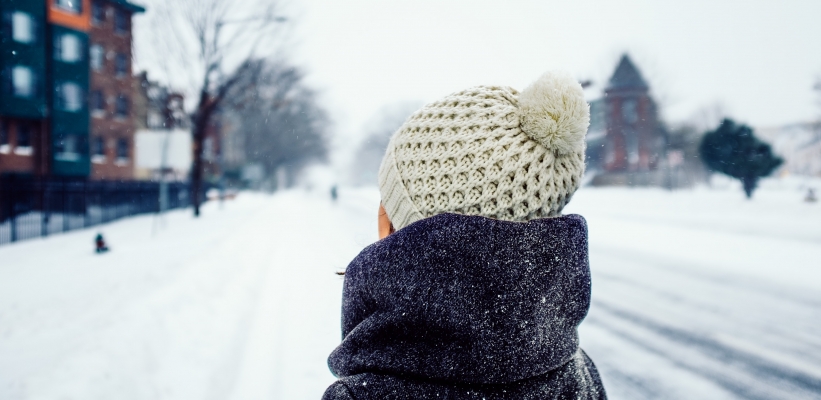 How to Weatherproof Your Look
This winter seems to be full of surprises. One day we're wearing a light jacket and the next day, full-on snow gear. Like the city itself, winter in New York can be utterly unpredictable. So what do you do when you want to look fashionable, yet stay dry and warm? Read on for a few fashion tips to honor your stylish self and Mother Nature.
Love to Layer – With any sort of a commute, you are probably exposed to a wide variety of temperatures.  My best advice is to dress layers, preferably thin-gauge layers to avoid adding visual bulk. Pay attention to your fabric choices. Start with an undershirt of cotton, silk or one of the newer high-tech fabrics. (My favorite underpinnings are the Heattech T's from Uniqlo which keep you warm and moisture-free.) Then layer on your shirt, turtleneck or sweater. Finish your look with a vest, blazer or cardigan. Remember, the more layers you have, the more able you are to self-regulate the temperature.
The Long and Short of It – While you might be tempted by the cute quotient of a short jacket, opt for at least a 3/4-length length. Quite simply, the longer the coat, the more of you that is covered, so a longer style is simply a more practical choice. Consider investing in a waterproof trench coat with either a zip out lining or a bit of extra room, so that you can layer underneath with gusto and enthusiasm. If you are considering a longer puffer coat, it is best to choose a more fitted style to keep you well-insulated and to maintain a sleek silhouette.
Cold Weather Companions – I've read in the past that we lose much of our body heat (up to 80%) through our extremities, so cold weather accessories are a must.  Dressing starts from the head down, so a hat is the perfect way to mix practicality and style. Not only will a wide-brim hat keep you warm and dry, it may also help keep hair and makeup intact. Ditto for an umbrella.  While we may think of it more for spring, snow is, after all, just frozen water and can also wreak havoc on your look. Don't forget about gloves. I recommend the text-friendly type (for obvious reasons) in a variety of colors and styles to compliment all of your different coats (and moods).
It's a Shoe In – For inclement weather, comfortable and waterproof are non-negotiable. Think about a modest or flat heel. However, this does not have to always mean Ugg-style boots!  People often have a love/hate relationship with Uggs. Regardless of which camp you fall into, I think you'll agree that they can read casual, young and borderline unattractive. So why not STFTW (save them for the weekend) and instead invest in a great-looking, go-with-everything, all-weather boot in a neutral color? At this time of year, department stores have great prices but slim pickings so focus your search online. Zappos.com has a wonderful return policy so try a few and keep the best of the bunch.
Master Your Makeup – Don't let runny mascara or eyeliner ruin your morning. Opt for the waterproof versions on the days that snow or rain is predicted. Similarly, select cream shadows and blushes. Not only do they have more "staying power" and blend more easily, a dirty little secret is that when powder gets wet, it tends to streak. Remember to stock your makeup bag with a few products you might need for touch-ups (i.e. beauty blender sponges and Q-tips). Alternatively, head out fresh-faced (and a few minutes earlier) and apply your makeup once you arrive at your destination.
Bottom line: Don't let winter weather cramp your style.  With a little preparation – and a few key items – you can brave the elements and still look fab!