Last Minute Holiday Gifts
It's the most wonderful time of the year. So why are so many of us so stressed out about holiday shopping? Well with less than two weeks to go, time is of the essence. And the stores are a wee bit crowded. Also, if your list is anything like mine, it keeps growing with people you've accidentally left off (the dog walker, the neighbor that signs for your packages, your hairdresser and so on). If you're out of ideas (or energy), why not give a 'taste' of the season? Read on for some last minute food gifts that are far more creative than the typical Starbucks gift card (or boxed chocolates), but have just as wide an appeal.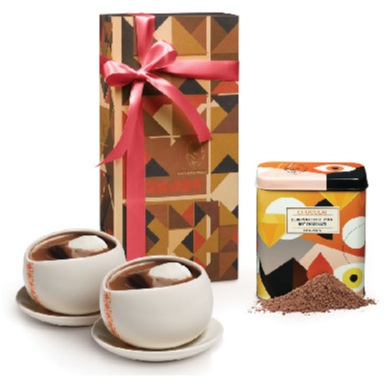 Hug Mug Set: Ahhh…the Chocolate Drinking Ceremony. It's a ritual. It's when you close your eyes, hug your mug (with both hands) and slowly sip the thick hot chocolate, letting the sweet steam heat your face. The lucky recipient of this gift will relive this moment of joy and again and again with Max's Brenner's specially-designed Hug Mugs. This set includes two of Max's specially-designed Hug Mugs with saucers and Chocolat: European-style, thick, hot chocolate powder. Yum! ($29 at Max Brenner)
Queen Catherine de Medicis Box: MacarOn Café in NYC
was established to pay homage to the delicate French confectionery, the macaron. They have been recognized as connoisseurs of this delicious French pastry because of their wonderful variety of flavors so authentic (not to mention delicious) that they "transport you to Paris with (just) one bite." This lovely gift box is shipped with 18 flavors of your choosing, plus 2 cocktail macarons. Merci bocu! ($50 at MacarOn Café )
P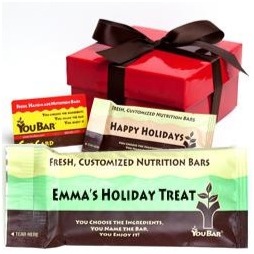 ersonalized Energy Bar Gift Box: Do you know someone who loves protein bars? At YouBar, they believe the best gifts have a personal touch. That's why their gift boxes allow you to customize the energy bars with any personalized photos, messages and images you like. The recipient then receives a gift box filled with 6 delicious energy bars wrapped in the packages you designed. The NYT said it best, "With these nutrition bars, every order is special." ($49.95+ at youbars.com)
Green Herbal Tea Set: This holistic tea set offers an opportunity to sip from an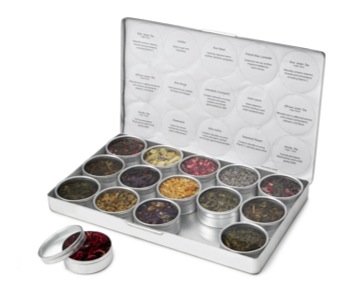 array of nine medicinal herbs and three varieties of eco-certified, organic green tea from Japan, India, and Sri Lanka. From toxin-cleansing rose petals to cholesterol-lowering tamarind, every special herb is labeled with its unique blend of health benefits, making it easy to formulate just the right tea for the mind, body and spirit. The loose leaf teas and herbs are steeped in the reusable tea bags made from biodegradable corn silk. A tranquil gift, if ever there was one! ($40 at uncommongoods.com)
Spoonable Salty Caramel Sauce: Trust me when we say that in this instance, being 'saucy' is a good thing (smile.)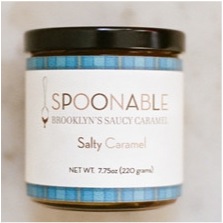 This salty caramel sauce is soooo good that it's hard to resist eating it right out of the jar. However the salty-sweet sauce pairs beautifully with both sweet and savory dishes. Featured as one of Buzzfeed's Best Food Gifts Under $20, this is a gift that any recipient will be delighted to receive. ($8.50 at eatboutique.com)
Himalayan Salt Block: Extremely versatile, this block of Himalayan salt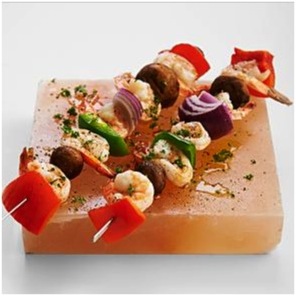 imparts a hint of mineral-rich salt to whatever is served on it. It can be used to cook food on a grill or in the oven, chilled and used to serve sushi or frozen desserts or as a serving plate for fruits and cheeses. Says one reviewer, "Food tastes amazing on it!" It makes a thoughtful and unique gift for those who know their way around the kitchen – or those that aspire to. ($39.95 at redenvelope.com)
Do you have some favorite food gifts that you've loved to give (or get?) If so, please feel free to post them on my Facebook page: /StyleworksofUnionSquare – and please like it while you're there.