Holiday Dressing: Festive, Yet Frugal Finds
I know you're smack in the middle of holiday gift shopping. And buying something for yourself may be the last thing on your mind – and possibly not included in your year-end budget. But ready or not, the holiday invites are ushering in. From after-work cocktails to family functions to New Years Eve soirees, your dance card is probably full. But your closet may not be – or at least not full of party-ready pieces. If this is the case, fear not my friends. You can add a few well-chosen, inexpensive items to perk up your wardrobe basics and take you from day to play. Read on for some festive, yet frugal finds for holiday dressing.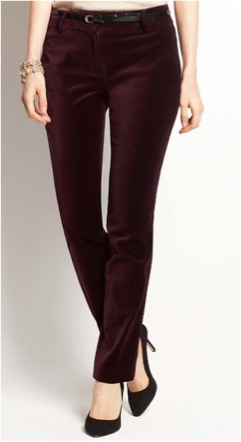 The Royal Treatment: Nothing says opulent and 'tis-the-season' like a velvet pant. This one is featured in a rich jewel-tone, which adds a luxe look and feel. What's more the slim leg pant has a touch of stretch and a more relaxed fit through the hips and thighs, making it every bit as comfortable as it is stylish. Pair it with a ruffle blouse or embellished sweater for a regal, yet festive look. ($98 – available at Ann Taylor)
Glisten Up: Work this show-stopping sequined blazer into your winter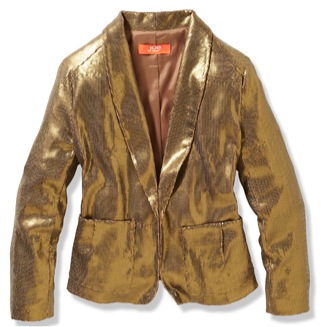 wardrobe and instantly amp up the glam factor. It's an easy piece that pairs back to absolutely everything in your closet. From your favorite pair of dark wash denim to a black slim pant or pencil skirt, it's always right. What's more this piece is actually a classic – it's a perennial favorite at this time of year. This means you can buy it now and wear it for years to come. Let the sequins capture the light, while you capture the attention. ($89 – available at Joe Fresh)

A Case for Lace: Admittedly lace can sometimes have a more vintage, if not matronly feel. But his season we're seeing lace done in a very contemporary way. With this skirt the illusion lace overlay and slim, pencil silhouette lend a modern touch – and a ladylike boost – to any wardrobe. Wear it with your favorite blazer and silk blouse for an office-ready option. Then swap out the blazer with a sparkly, statement necklace for a holiday dinner or after-work seasonal soiree. ($60 – available at Macy's)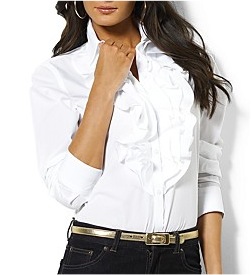 Frill Seeker: While holiday dressing is all about pattern, texture and shine, you'll want to make sure you have a solid, steady-eddy in your closet. Enter the crisp white blouse. This one goes well beyond the basic with three layers of elegant ruffles that adorn the placket of a classic button-down shirt. Wear it with any of the bottoms featured here to lend a tailored, yet timeless touch – not to mention a decidedly feminine edge. ($60 – available at Bloomingdale's)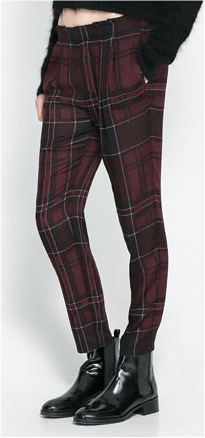 Clad in Plaid: The Scots may call it tartan, but here on our shores it's simply known as plaid. Trending for a few seasons running, we continue to be mad for plaid – especially the bold, overstated variety. Worn with a comfy, sparkly sweater or a shrunken blazer, these slim pants offer a whimsical and festive take on a classic favorite. It's been said that this season's plaid is less 'school' girl and more 'cool' girl. I couldn't agree more! ($60 – available at Zara)
Animal Instincts: If ever there was a time to let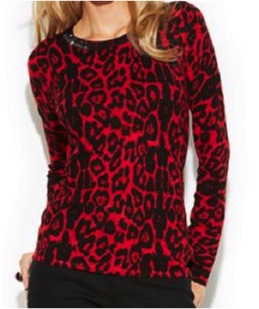 you hair down, the time is now! Why not take a walk on the wild side and add an animal print item to your closet? This one embraces some of the most festive details of the season, with its racy red and black color combo and embellished neckline. What's more, there's no need to add a necklace – it's already built in. This statement sweater makes the perfect party accompaniment to all your celebratory soirees and holiday happenings. ($38 – available at Macy's)
So while you're making a list and checking it twice, don't forget to add yourself – and perhaps one of these festive, holiday picks. Enjoy!