&nbsp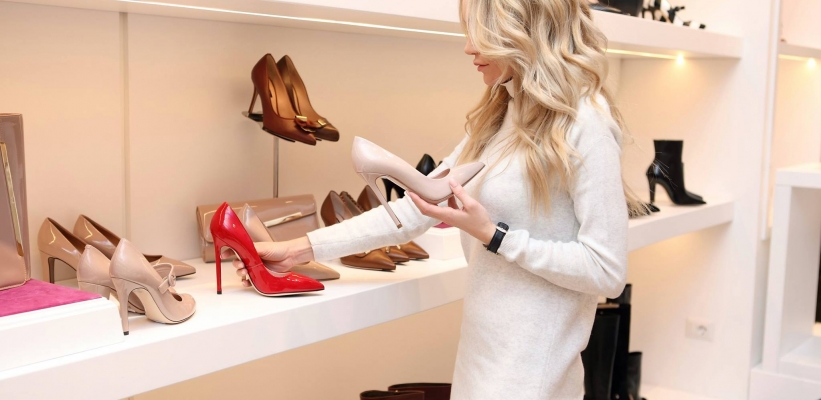 Stylish Shoe Options for Spring/Summer 2017
In the spirit of full disclosure, I've got a confession to make. I'm not a shoe girl. I'd love to tell you I've got dozens of stop-traffic pairs in my closet but I'd be lying. Truth be told, I've got about 10 pairs in rotation for any given season. Maybe it's because I'm on my feet a lot and comfort is key.  Or maybe it's because my interest usually gravitates to other accessories. (Hello eyewear and jewelry – smile.)  None-the-less, this is the season that may change all that. I'm happy to say that the shoe trends for the spring/summer season are actually – wait for it – wearable!
Think about it – heels that don't hurt; easy-to-wear espadrilles and slingbacks that slip on. For those of us that refuse to sacrifice comfort for style, it's time to go shopping! Whether your interest is a snazzy little slide, a mirror-like metallic or a sassy, strappy sandal, you can't help but be spoiled for choice this season.  Bonus:  there's no easier way to spice up your warm weather, wardrobe staples than with a colorful new shoe or two. So get ready to click your heels in delight and check out some of my favorite picks below.  For more shoe-shopping inspo, check out my curated collection for additional picks.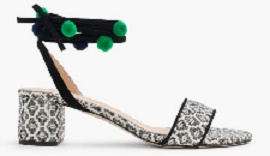 This Season's Blockbuster – Have you noticed that, as of late, your friends seem to be standing a little taller? You're probably not imaging it because women everywhere are embracing the appeal of this season's block heel.  Because they're chunkier, block heels offer more support to your ankles and lower back. (Think about having height without the hurt. #Heaven.) You'll find block heels available in everything from pumps to slides to sandals so you can sport them for work or play. One of my favorite picks is this one which playfully pairs an ikat pattern & pom-poms. (From J. Crew.)
Slip-Sliding Away – It's summertime and the living is easy. For most of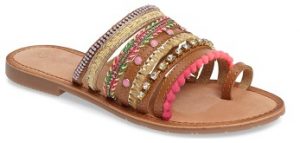 us, schedules relax a bit and we're in a "kick-back" kind of mood.  Wardrobes become more casual and with their lack of straps and laces, slides seem to jive with the relaxed vibe we all want to step into (pun intended).  This season slides range from the silly to the serious, so pick a pair that has a similar level of formality to the situation in which you'll most likely wear them. This pair is a weekend warrior. The elements of texture, color and dimension come together in a strappy, flat sandal that's tailor made for a casual dress, cropped pant or walking short. (From Nordstrom.)
The Pur-fect Pair – I never thought they'd come back into style either.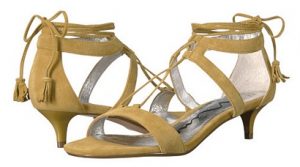 But here they are…continuing to trend into the warmer weather months. Based on an iconic style from the '50s, kitten heels offer a bit of sophistication with a "just-right" (a.k.a. walkable) heel height. They offer a sleek shape, a bit of lift and whole lot of retro appeal. So go ahead and give a nod to this wearable option, that's offers just a touch of trend with its ankle-wrap and tassel tips. (From Zappos.)
A Pump with Personality  So maybe your grandmother wore them. Or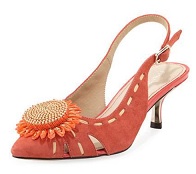 maybe the sheer mention of a "slingback" brings up bad bridesmaid memories. None-the-less, this season's slingbacks have been seen on the feet of fashionistas and well-heeled women everywhere. Whether you go high or low, why not give your closed pumps a vacation and instead opt for this seasonally-appropriate, warm-weather alternative.  What's great is that they're one of the few shoe trends that is "office-ready" – not to mention a real savior when a pedicure just wasn't a part of last night's plan.  (From Neiman Marcus.)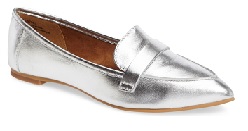 Shine On – There's no better time than now to step away from black and step into summer's favorite neutral – metallic. Whether you lean to gold or silver, there's something for everyone this season. What's more, the shiny finish seems to lend a touch of trend to some of our favorite shoe styles such as loafers, ballerina flats, flip flops and so on. Either for day or night, a bit of bling is in so why not let your style shine? Sure metallic shoes may capture the light, but you'll capture the attention. (From Nordstrom.)
Just a note:  Regardless of the shoes you sport, don't forget to break in any new pair before wearing them out. And pack a few Band-aids…just in case.