Make a Splash in the Rain!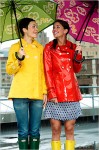 We thought it would never come…a new season, warm weather, and a fresh start. Nature will soon do its thing as buds bloom, bulbs sprout, and green abounds. However, nothing happens without a little help from Mother Nature – and a lot of moisture! Those rainy days don't have to be dreary. In fact, there's no better way to welcome a few of April's showers than to celebrate with color, texture and shine.
To liven up a rainy day, sport a beautiful and colorful umbrella. Brights are everywhere this season and you've got lots to choose from. My favorites are the primary (reds, blues, and yellows) or citrus (oranges, lime greens) palettes. Even try a pretty pattern, as stripes and florals predominate. Also try coordinating your umbrella with a great coat and rainboots. Your cares and the rain will slip away when wearing a chic slicker in shiny red or yellow. After all, there's no reason your raincoat can't be fun, bright and stylish. Long, short, hooded, belted – look for details that make it interesting and useful. Sport a more playful version and there's a good chance it will bring a smile to your face – and others! As for the bottom, there's nothing better than knowing you can walk right through that puddle and your feet will be bone dry on the other side. There are plenty of chic and sleek additions for those who refuse to give up their fashionista selves because of a little rain! Just remember to opt for a shorter pair when the weather warms up to avoid that sticky feeling.
It can seem almost impossible to avoid bad hair on a rainy day. Fret no more! To keep your hair looking fresh and vibrant, try a moisturizing shampoo and conditioner and look for products especially made for anti frizz. Since hot water is drying, rinse with cool water as it helps seal the hair cuticle for smoother hair. A pomade or serum applied to damp hair will help reduce frizziness. Try letting your hair air dry and if you must use a hairdryer, use a diffuser. But even with the right hair products and regime, you'll still want to protect your lovely locks from the elements. If the phrase 'rain hat' has you thinking of those boring rain bonnets your grandmother wore, think again. Look for options that are chic, stylish and make a statement.
Sometimes even the most prepared person can get unexpectedly caught in a shower. This month why not opt for waterproof mascara, cream foundation, eye shadow and blush instead of powder and stay picture perfect even in the rain.