&nbsp

Fab Finds for $50 or Less
It's a common misconception that people who hire Image Consultants are wealthy or have big budgets to shop.  I'm not sure where this thinking stems from, but it's simply not true.  Yes I've shopped with and for clients at all the high end-retailers.  That said, I've also shopped Loehmann's, H&M, and Century 21 with equal success and gusto!  The trick is not only understanding what fits and flatters a person, but also being able to spot quality at any price point and when a garment looks far more expensive than it is.
The good news about fashion these days is that we often see a trend or designer-inspired item at a fraction of the price.  Great style does not require a big bank account, but simply a trained eye.  To prove my point, this month I'm starting a weekly Facebook posting entitled, Fabulous Finds Under $50.  I thought I'd give you a snapshot of just a few pieces that "spoke" to me this week.
Stripe on – A modern spin on the classic nautical stripe, this knit top is updated with two-tone colorblocking (and tangerine tango – a big color trend this past summer that continues intTop Shop Peplum Waist Topo fall).  Wear it with white capri pants now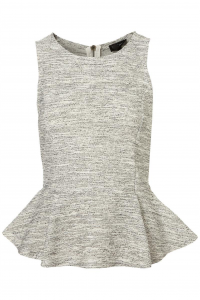 and transition to black pants or jeans come fall. (J. Crew – $49.50)
Top it off – Artfully tailored with a nipped waist and a peplum hem, this lady-like top is chic addition to any wardrobe.  Pair it with a slim pant and heel for sophisticated look and feel. (TopShop – $50.00)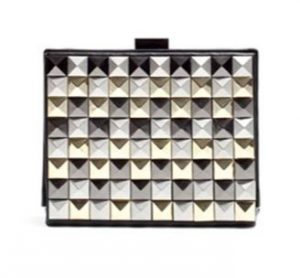 In the clutch – Clutches have attitude. From rocker to aristocratic to glam to creative, find your favorite.  Choose one with fur, studded details, embossed reptile, patchwork, or jeweled.  Let your clutch be your statement piece.  (Zara – $49.90)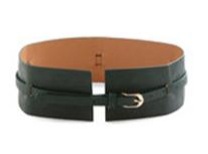 It's a cinch – This season it's all about the waist and belts in every size, width, and color abound.  This versatile obi-style belt can be worn two ways. You can wear the slender removable belt on its own or looped through the broader rectangular back piece.  Love this two-for! (ModCloth – $32.99)
Color me confident – While it's never out of style, Black and White is a strong part of the equation this season.  It transitions beautifully from summer to fall – and then back to spring.  Go ahead and team this neutral colored graphic print with any other color in your closet – even other neutrals! (Zara – $49.90)
Five great finds for under $250…You can't afford not to experiment and have fun!