&nbsp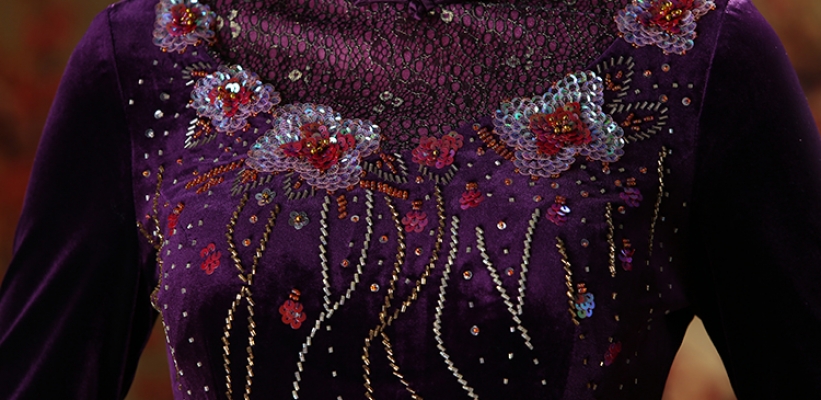 The Virtue of Velvet
If this fall could be described in a textile, velvet would be it. This perfectly, plush fabric has been walking down the runways and filling up clothing racks in stores everywhere.  At first glance, it may seem like we have stepped back into a 90's time machine but when we look more closely, we see a fresh take on this familiar favorite.
While we tend to think of velvet as a more formal and festive option (hello, holiday dressing), this season we're seeing it rendered in separates, with everything from blazers to bombers to booties. What this means is that that you can add a bit of velvet and with it, a bit of polish and sophistication to a simple sweater and jeans. With a quick change of accessories, your favorite velvet item can take you from day to play.  Think workweek, weekend and year-end soiree, and you'll begin to tap into the versatility of this season's velvet.
Though black is a safe choice to try this trend, why not opt for an item in one of this season's hearty hues? Choose from a robust red, rich navy, lush emerald green or a perfect plumb to add a pop of color and instant elegance to your look.  For some style inspo, check out the pieces below or my curated collection.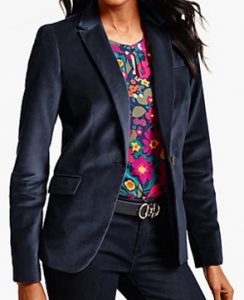 Blaze New Trails – Who can dispute the merit of a navy blue blazer? It's a credibility-booster and adds instant authority to anything you pair it with.  Because it's always appropriate, it serves as an easy pick when you're not sure what to wear. That said I know you've "been there, done that." So this season why not swap out your trusty-companion for a version in velvet?  Think of it as the v 2.0 to this wardrobe workhorse.  (Available at Talbots.)
It's in the Bag – Running out for a coffee? Leave your big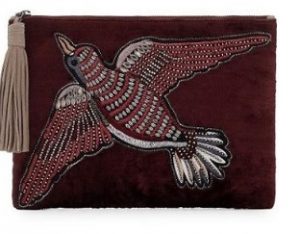 bag at home and instead opt for this pretty pouch that's just big enough for your cell, a stash of cash, a credit card and a lipstick (a.k.a 'life's little necessities'). Alternatively fill and toss it into your favorite tote for easy access and on-the-go organization. And if you're already thinking about the holidays, this makes a great stocking stuffer for yourself and those on your gift-buying list!  (Available at Lord & Taylor.)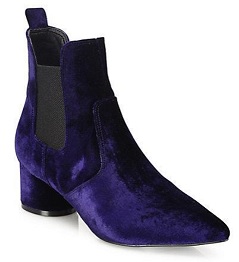 Shake Your Booty – No one can deny that a boot is fall's shoe of choice. From ankle to knee-length to over-the-knee, there's a height and style for everyone.  Admittedly not for the color-phobic, this purple pointy toe is welcome departure from the 3 pairs of black boots that already live in your closet. What's more it offers the perfect finish to any flare, boot or wider leg pant – not to mention a stylish way to try this trend.  (Available at Saks.)
It's the Bomb – This season it's all about the bomber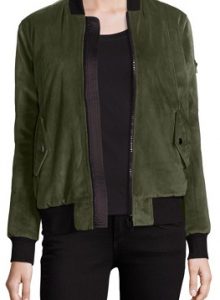 jacket and I love how this piece marries two must-have trends. Think of this piece as a fashionable, fall alternative to your favorite denim jacket or chunky sweater.  What's more this item is a two-for…It's reversible to black and functions like two pieces in one.  Wear this as a seasonal outer jacket right now or under your favorite winter coat when the temperature drops. Utility and use-value never looked so chic! (Available at Saks.)
I'm all Ears – I know we haven't even reached Halloween, yet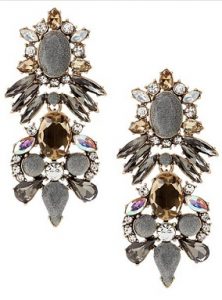 many of my clients are already thinking about what to wear for the holidays and New Year's Eve.  Some like the idea of using something they already have in the closet and snazzy-ing it up with a beautiful bauble (or two). Cue this dazzling, drop earring – an artful combo of velvet and shine.  Sure it says festive and holiday and captures the light but you'll capture the attention!  (Available at Banana Republic.)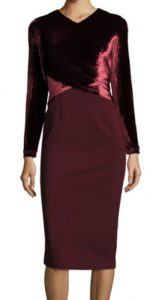 It's a (Faux) Wrap – So I'd venture that you already have the simple, sheath dress in your closet.  It's a low risk, multi-season and multi-occasion item. But sometimes you may want to switch things up a bit and stand out for all the right reasons. This flattering find really honors a woman's shape by accenting the waist and skimming over the hip area. The subtle sheen to the velvet bodice highlights your upper body and keeps the attention just where we want it. This is holiday and special occasion dressing at its finest.  (Available at Neiman Marcus.)
Just like the colors of fall foliage, the palette of this season's velvet is nothing short of magnificent.  And with so many luxe options, the question is not if you will adopt the trend, but rather what pieces you'll choose and in which fabulous hues? Enjoy!